"Eye of Newt"
A ten-inch f4.7 Newtonian by Mac & Maggie McAvoy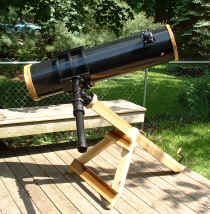 Click on the thumbnails below for information on the making of this instrument. These documents are not meant to be a step-by-step guide, simply notes on the unique aspects and small details of it's design. I have created this page to try and give something back to the web community of amateur telescope makers who helped me in my hour of need.
Introduction
This is a typical concrete-form-tube telescope but with some unique features. I opted for an equatorial mount so that I could lock the declination axis once the desired object was found. It's a bit more work than a Dob but I figured I need the exercise anyway :-) This instrument breaks down into five pieces: the OTA, the cradle, the counterweight, and finally the polar axis and A-frame.
| | | |
| --- | --- | --- |
| | | |
| Spider Construction | The Tube and Mirror Cell | Portable Mount |
| | | |
| Storage | Acknowledgement | Featured Artwork |