Inspired by the H. G. Wells novel The War of the Worlds, this piece draws parallels between Wells' horrific depiction of alien invasion and the horrifying potential for nuclear war imposed on humankind by countries either owning or pursuing nuclear missile technology.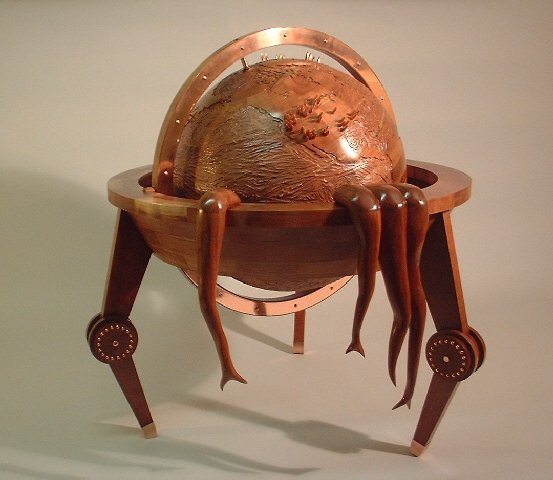 The War of the World: Big Boys and Their Tinker Toys
Cherry, copper, and copper hollow point bullets; 40x38x38"; 2007
This piece was exhibited at the Brooklyn Waterfront Artists Coalition gallery in New York City in a show called Wide Open and at The Woman Made Gallery in Chicago in a show called Nature House
Detail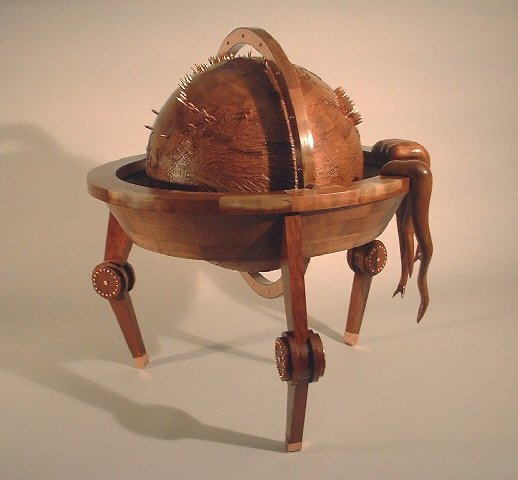 detail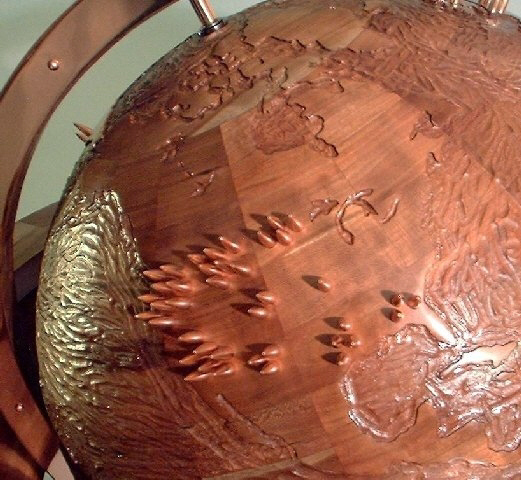 This is the initial sketch for The War of the World: nuclear missiles are represented using copper hollow-point bullet tips (the little spikes in the drawing). Finding where current missile sites are located across the globe proved challenging, as was expected. Note: South America and Africa, unlike the drawing, have no nuclear missile sites or programs. I wasn't thinking about specifics when I drew this.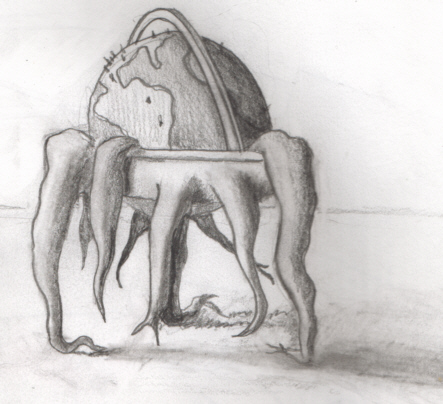 The redesigned concept: a fusion of the "tripod" mechanisms from the novel and the aliens' tentacles. The meridian ring and missiles are not shown in this drawing.
As this piece is an interpretation of a floor globe, it dictated the need for a large, hardwood sphere. Floor globes come in many shapes and sizes so I concentrated the following article on building a segmented sphere, leaving the globe stand design to the mind of the reader. I use the word "building" intentionally because I did not use a lathe in the sphere's realization. It is made of cherry and measures 22.5" in diameter. Click on the animation below if you wish to view this article.